About Our Milpitas Electricians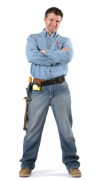 Our Company is a full service Milpitas electrical service company. Our highly trained and skilled electrical specialists design electrical systems from the ground up for both residential and commercial applications, while our licensed and extremely experienced electrical contractors and electricians build them. We've been in the electrician business for over 8 years and have become an integral part of Milpitas and Santa Clara County communities. We wouldn't have it any other way.
Being in such a beautiful area and being able to serve our community with a much-needed service makes us proud to be Milpitas electricians. We don't see ourselves as just putting wires together and bringing electricity into people's homes. And we don't just see ourselves installing flat screen TVs and surround-sound systems and ceiling fans, or rewiring the entire house or replacing a switch and installing all types of lighting and cable TV outlets. We certainly do those things and more, like installing computer harnesses and pool lights and whole house surge suppressors and cable TV outlets and any and all other electrical services that are called for.
But, we see ourselves as much more than just an electrician in Milpitas, CA. We are the community and trustworthy neighborhood electricians, no doubt about it.

Very good ones as far as that goes. But we see ourselves on the front line of darkness for our neighbors and friends. We see ourselves bringing light and the power of enjoyment into your home. We see ourselves doing the best possible job for you so you will never have to be in the dark.