Milpitas Electrical Services


Our Company provides every type of electrical services in Milpitas and Santa Clara County, California. We are certified and insured Milpitas electricians. No job is too small or too big for us, as we have had 8 years of experience and each electrician who comes to your home or business comes highly trained in electrical solutions for residential and commercial applications.
Our Milpitas CA electricians have expertise in electrical remodeling, panel changes, switch and main meter replacements, new constructions, fire alarms, whole house suppressors, all types of lighting installations, including recessed lighting, pool lights, photocells for outdoor lighting, cable TV outlets, phone outlets, flat screen TV and surround-sound systems installations and timers. We are also on call for emergency electrical services, 24 hours a day, seven days a week.
Call us. Depend on us. We will be there.
These are just a few of the more popular electrical service requests we get. Our electricians have done just about anything that has to do with electrical service, and they do it on time with professional integrity.
Some additional services to the ones displayed on the right that we frequently povide to the south bay area include:
Repair Meters
Energy Efficiency & Saving Evaluations
Safety Inspections
Replace old Wiring
Surge Protectors
Exhaust Fans
Circuit Breaker Boxes
We are electricians in Milpitas. That's our business. It's the only thing we do. We don't carry groceries out for supermarket customers,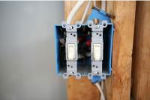 (although our very clean and friendly electricians probably would, given the chance), and we don't work at the car wash. Our utility trucks, however, are clean as a whistle and even more importantly, they are fully stocked with top quality replacement parts so our electrician doesn't have to run all over town looking for a component for your electrical system.